The
Town Records
Building is a location in the BHM Productions Silent Hill fan film,
Silent Hill: Broken Remnants
.
It made an appearance in part 3 of the movie, when Eric wanders into it looking for a safe place to wait until the Otherworld passes.
Town Records is a small brick building that was burnt down in the great fire of Silent Hill 30 years prior to the events of the movie. Over time, it has severely weakened and rotted, with entire chunks of the walls, windows, and ceiling missing or broken. The place is also heavily overgrown with plants and weeds.
The inside is littered with files and documents of all the town's residents and departments, many of the papers either burnt or rotted. Pieces of the building lie in crumbles along the walls and corners. There are also some spots that look like small living spaces (from when the townspeople were reduced to scavengers during Alessa's revenge).
Not only is the building filled with the town's important files and documents, it also has antiques (such as an old treasure chest) and momentos scattered about at one end of the building.
In part 3, Eric and Ashley are at Midwich Elementary School in Silent Hill. The siren signaling the Otherworld blares, causing Ashley to run away in fright, leaving Eric behind. The world goes dark and peels away around him, transporting him to a different place in Silent Hill.
Eric is terrified to see the school gone and replaced with a small, dilapidated building. With no other option, he decides to take cover in the building. In there, he finds an old treasure chest, opens it, and finds an elegant antique ring inside. Upon grabbing it, Eric feels the memory of the great fire in Silent Hill, hearing in his head the voices of those burning in the fire.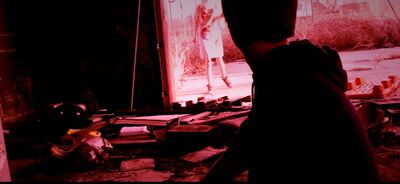 Before he can decipher what it means, he is ambushed by two
demon nurses
and has to rush out of the building, only to be ambushed by a
Prisoner monster
. Eric barely manages to escape its attack and takes cover at another building, where the siren signals again, shifting the world and transporting Eric back to Midwich.
The actual building filmed at for the scene was an old Historical Society (a government-owned building that small towns use to store all their files and documents) that had been abandoned and burnt down many years ago.
This building was right next to an abandoned meat-packing factory and an abandoned neighborhood that had been turned into crumpled ruins.
The ruined neighborhood mentioned above was the location used in the very first scene in part 1.
Ad blocker interference detected!
Wikia is a free-to-use site that makes money from advertising. We have a modified experience for viewers using ad blockers

Wikia is not accessible if you've made further modifications. Remove the custom ad blocker rule(s) and the page will load as expected.